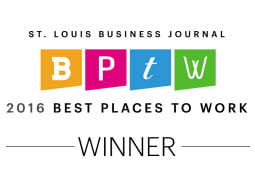 ST. LOUIS (February 5, 2016) – Perficient, Inc. (NASDAQ: PRFT) ("Perficient"), the leading digital transformation consulting firm serving Global 2000® and other large enterprise customers throughout North America, today announced it has been selected as one of the St. Louis Business Journal's 2016 Best Places to Work.

Founded in 1998, Perficient has grown from a startup to an industry leader serving clients from locations across North America, as well as in Europe, China and India. Perficient partners with leading technology vendors – including IBM, Microsoft, Oracle and Salesforce – to deliver digital experience, business optimization, and industry solutions and support. Perficient is also at the forefront of industry thought leadership on digital transformation – a means of modernizing the systems that create, deliver and sustain meaningful customer experiences.

"As a national consulting firm with its headquarters in St. Louis, we take considerable pride in being named one of the Best Places to Work by the St. Louis Business Journal," said Jeffrey Davis, Perficient CEO and President. "At Perficient, our colleagues are guided by a shared sense of purpose: to help the world's leading enterprises realize business success through the use of innovative technology solutions."

Recognition as one of St. Louis' Best Places to Work builds on Perficient's status as a premier employer in the St. Louis area. The daily St. Louis Post-Dispatch listed the company among its top workplaces in 2013, 2014, and 2015. Perficient also has been named a top workplace in additional markets including Denver, Chicago, and Minneapolis.

In January, the employment search service FlexJobs listed Perficient among its Top 100 companies to watch in 2016 for flexibility and remote job opportunities, for the second consecutive year.

"Our success and recognition as a great place to work results from our unwavering focus on core values including honesty and integrity, pride and client value," Davis said. "We hire the best and brightest, foster a culture of ownership and collaboration, and encourage an entrepreneurial spirit."

The Best Places to Work employee survey is conducted by WorkplaceDynamicsLLP, a leading research firm on organizational health and employee engagement. WorkplaceDynamics conducts regional Best Places to Work programs with major publishing partners nationwide.

About Perficient
Perficient is the leading digital transformation consulting firm serving Global 2000® and enterprise customers throughout North America. With unparalleled information technology, management consulting and creative capabilities, Perficient delivers vision, execution and value with outstanding digital experience, business optimization and industry solutions. Our work enables clients to improve productivity and competitiveness; grow and strengthen relationships with customers, suppliers and partners; and reduce costs. Perficient's professionals serve clients from a network of offices across North America and offshore locations in India and China. Traded on the Nasdaq Global Select Market, Perficient is a member of the Russell 2000 index and the S&P SmallCap 600 index. Perficient is an award-winning Premier Level IBM business partner, a Microsoft National Service Provider and Gold Certified Partner, an Oracle Platinum Partner, and a Platinum Salesforce Cloud Alliance Partner. For more information, visit www.perficient.com.

Safe Harbor Statement
Some of the statements contained in this news release that are not purely historical statements discuss future expectations or state other forward-looking information related to financial results and business outlook for 2016. Those statements are subject to known and unknown risks, uncertainties, and other factors that could cause the actual results to differ materially from those contemplated by the statements. The forward-looking information is based on management's current intent, belief, expectations, estimates, and projections regarding our company and our industry. You should be aware that those statements only reflect our predictions. Actual events or results may differ substantially. Important factors that could cause our actual results to be materially different from the forward-looking statements include (but are not limited to) those disclosed under the heading "Risk Factors" in our annual report on Form 10-K for the year ended December 31, 2014.