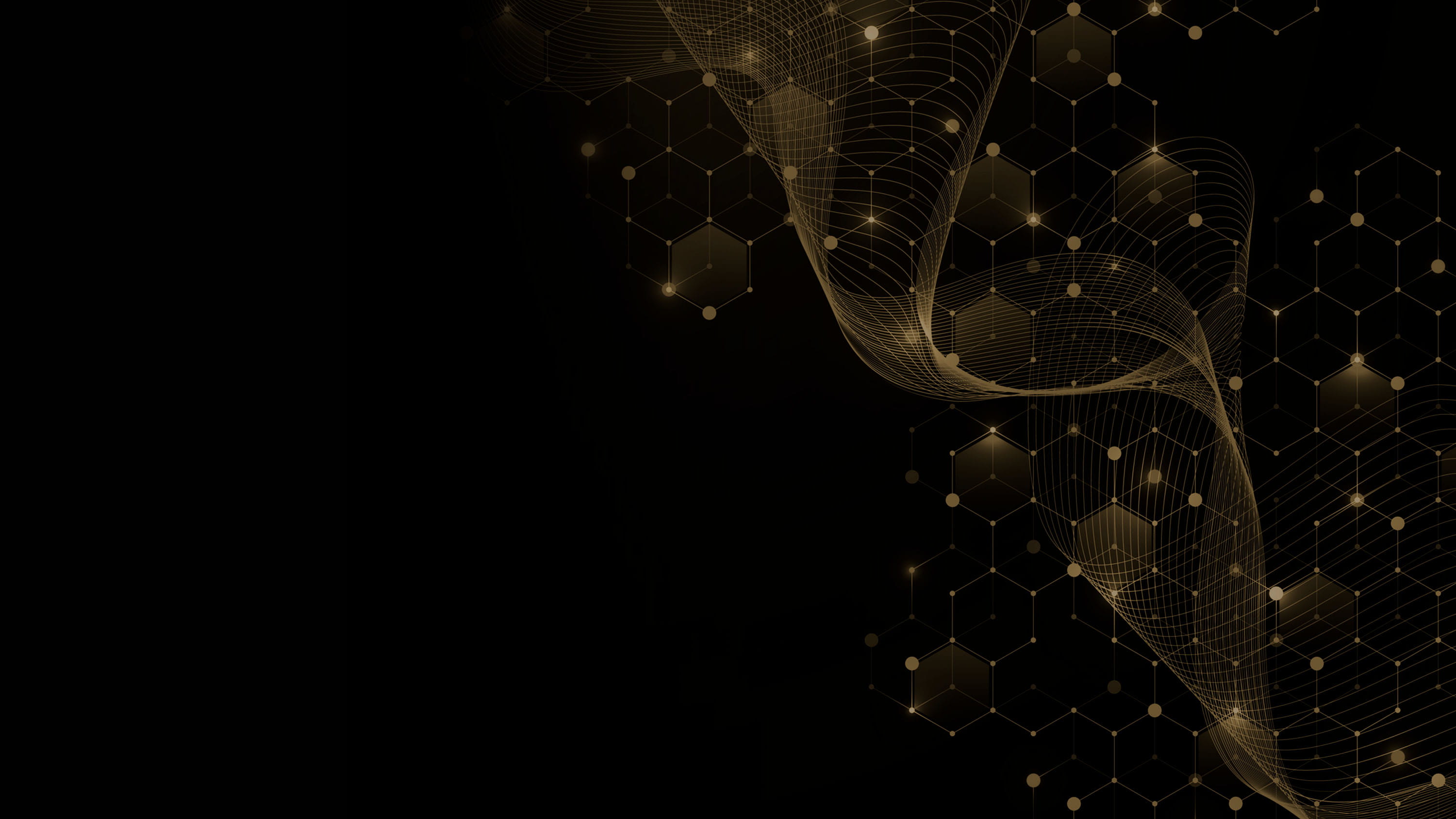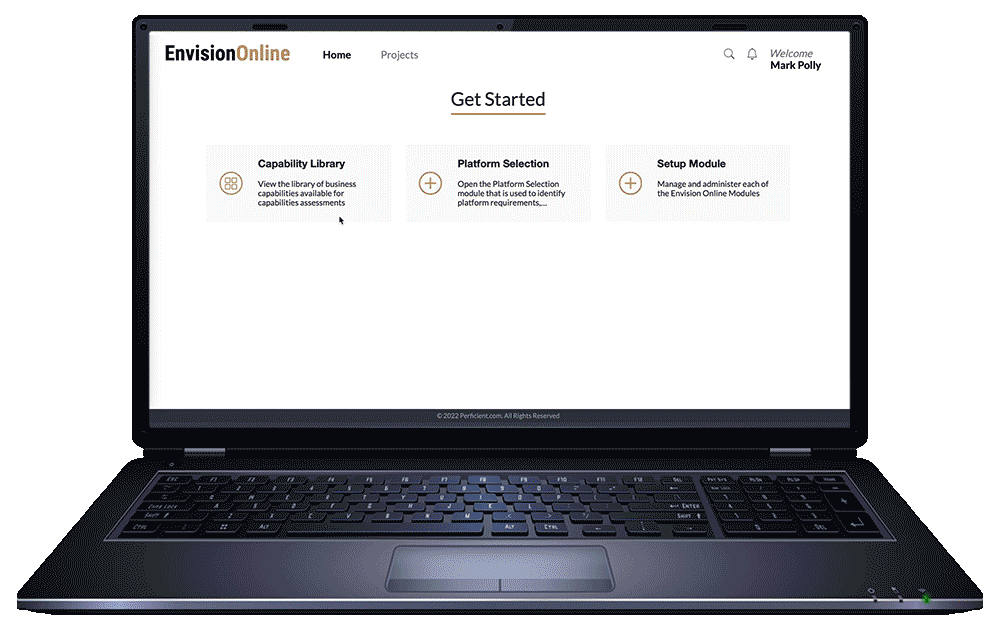 envision online
The Smart Way to Make Better Decisions Fast
Envision Online is a digital transformation platform that provides a suite of proprietary strategy tools, historical industry data, and best practices to quickly deliver actionable insights.
Strategic Results, Informed by Execution
Our Envision Online tools provide you with the insights you need to move fast. Our proprietary data – collected across industries, markets, and companies – is informed by real-life execution and proven with results. We can quickly see where your organization stands compared to hundreds of companies in your space to determine where you have gaps and how you can close them.
Envision Online is integrated specifically for cross-functional participation and provides your teams a convenient, one-stop digital experience to envisioning your future.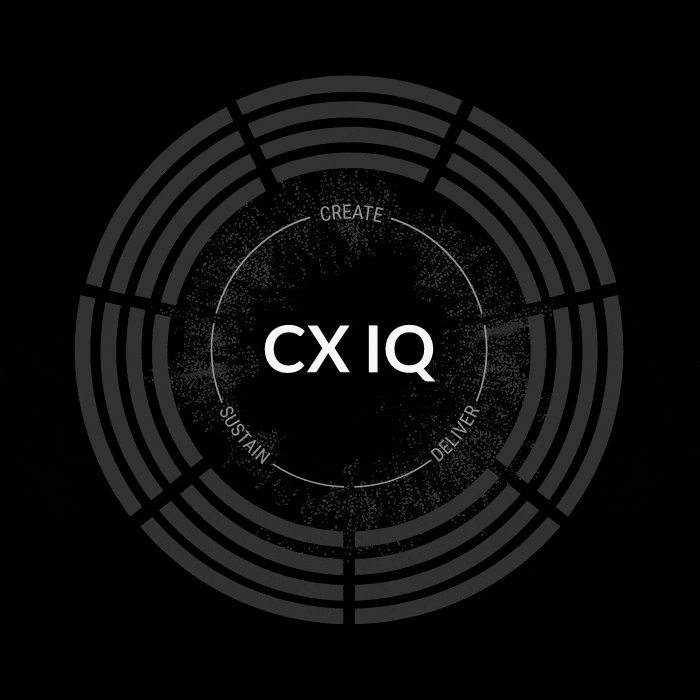 Diagnose Critical Digital Capabilities
Our IQ Suite contains a multi-factor assessment to help you benchmark your organization against others in your industry and diagnose critical digital capabilities.
IQ Suite helps you:
Assess organizational strengths and weaknesses
Benchmark capabilities
Identify capability and technology gaps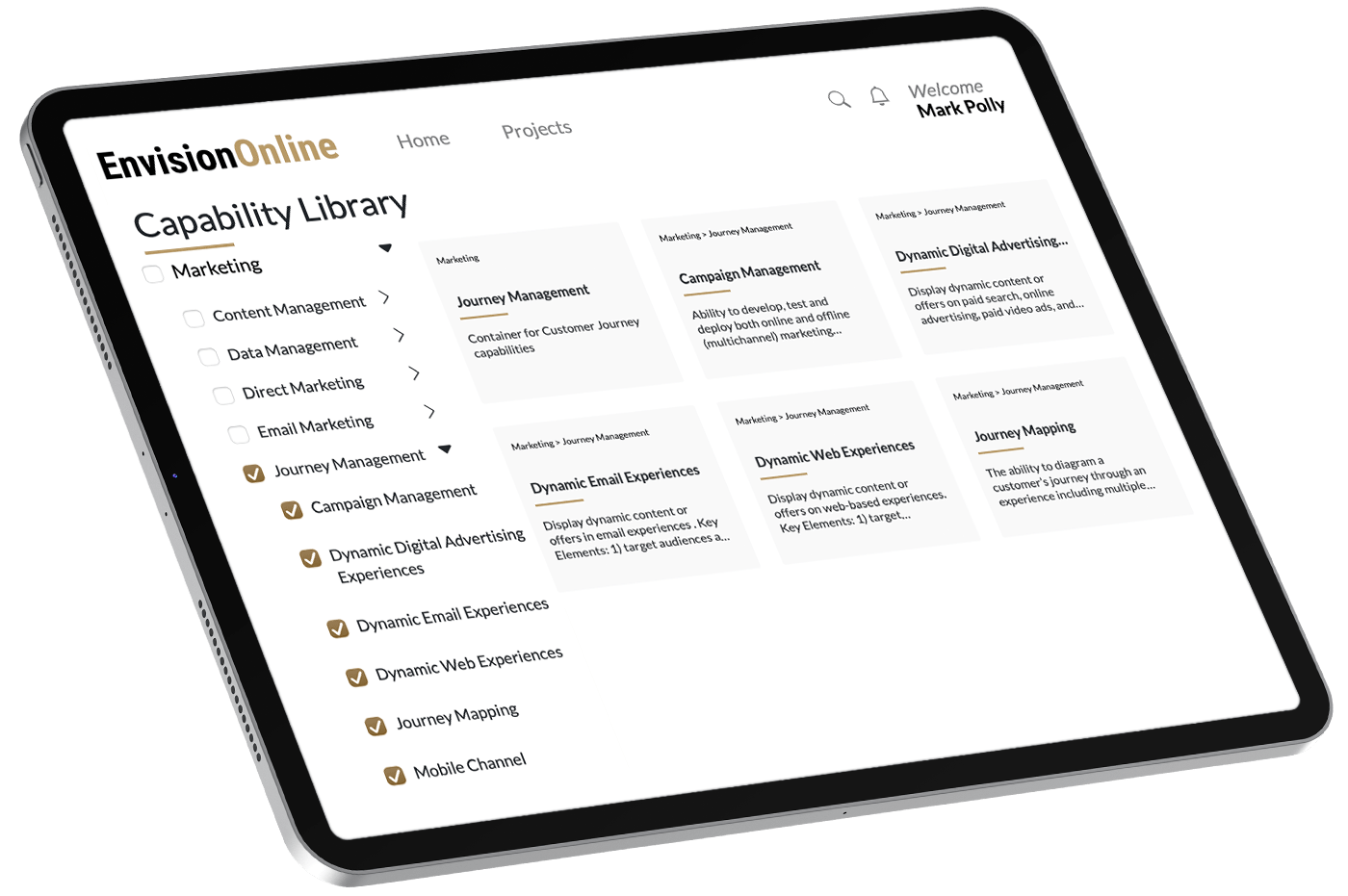 Prioritize Your Key Capabilities
Our Capabilities Library will help you grow faster and outperform your competition by identifying, and then delivering what your customers expect.
The library includes thousands of business capabilities across industries and will help you:
Identify gaps in fundamental capabilities, resources, processes, data, and technology
Understand what solutions will fill those gaps
Compare your current state to other organizations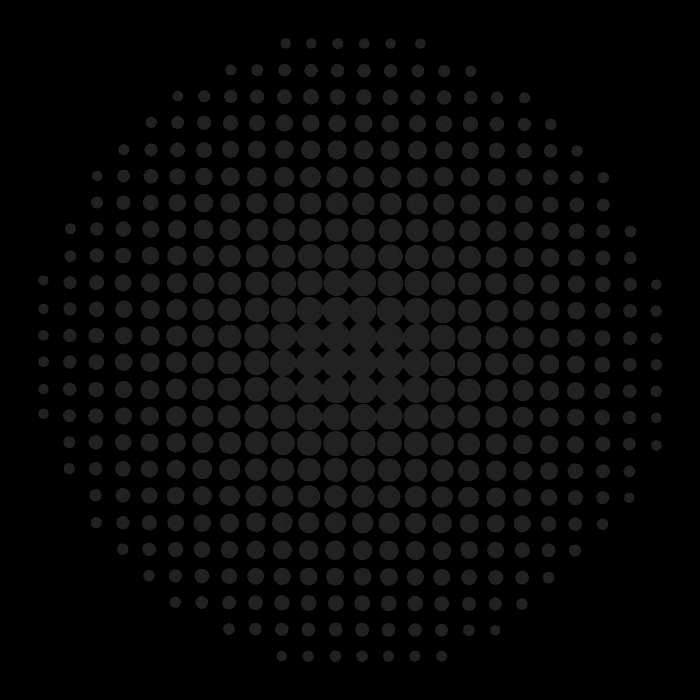 Find the Perfect Platform
Our Platform Selection tool helps guide your team through identifying your key requirements and provides insights into how specific vendors will meet your needs.
This tool helps you:
Compare 300+ technology vendors
Prioritize your key priorities across 5,000+ requirements
Create greater buy-in across your organization
Make a fully informed and confident decision for the business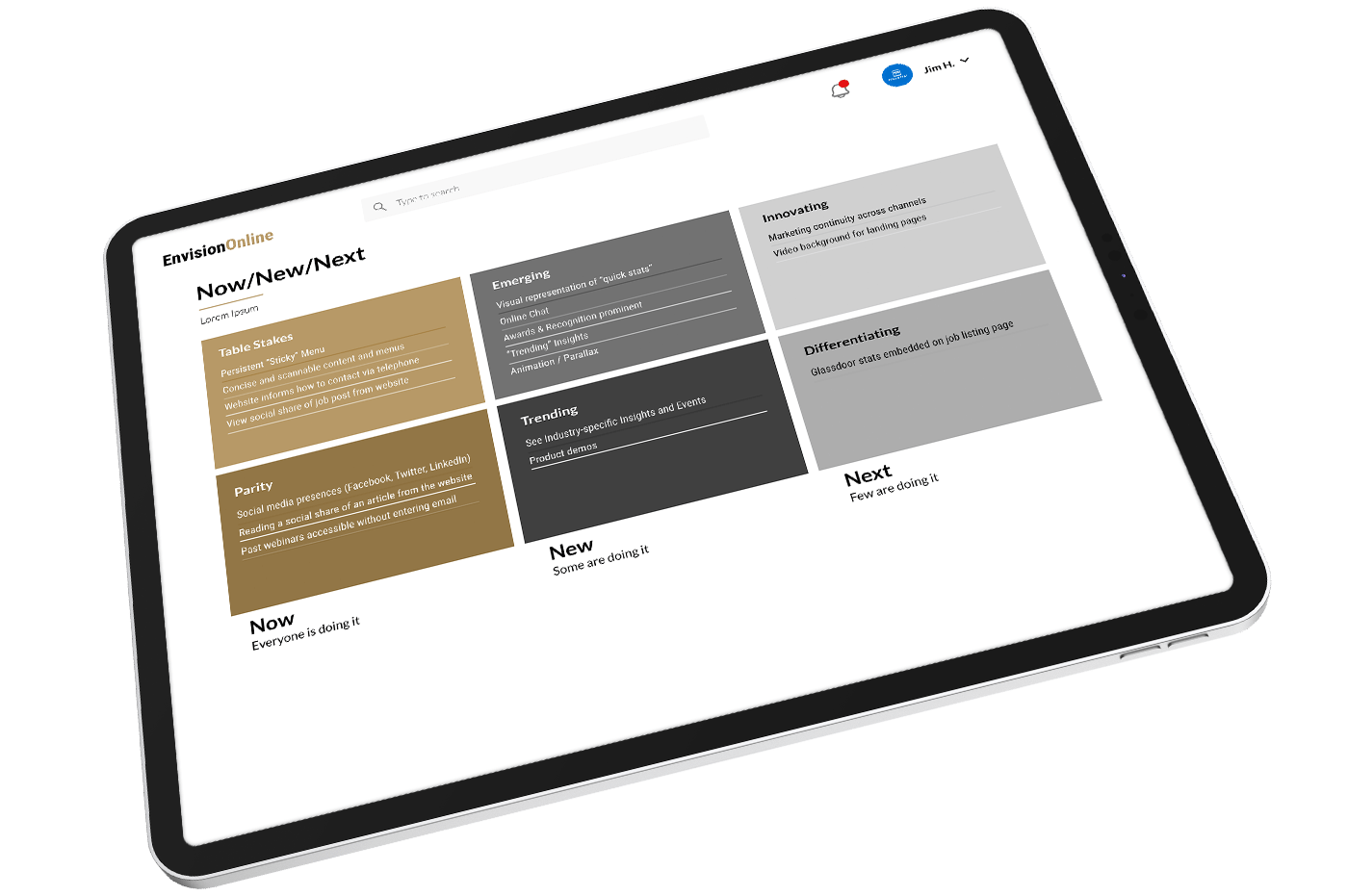 Focus On What Matters Most
Now/New/Next (N3) is a tool for rapidly benchmarking and prioritizing your customer experience (CX) portfolio. N3 helps determine which of your good ideas are great ideas and which of those you have the time, money, and attention to act upon.
Our N3 model helps you:
Understand where your CX stands relative to customer expectations and competitive forces
Get inspired to ideate cross-industry experiences and adaptations
Prioritize which experiences and capabilities to focus on next
Balance the experience portfolio to make the most of limited time and resources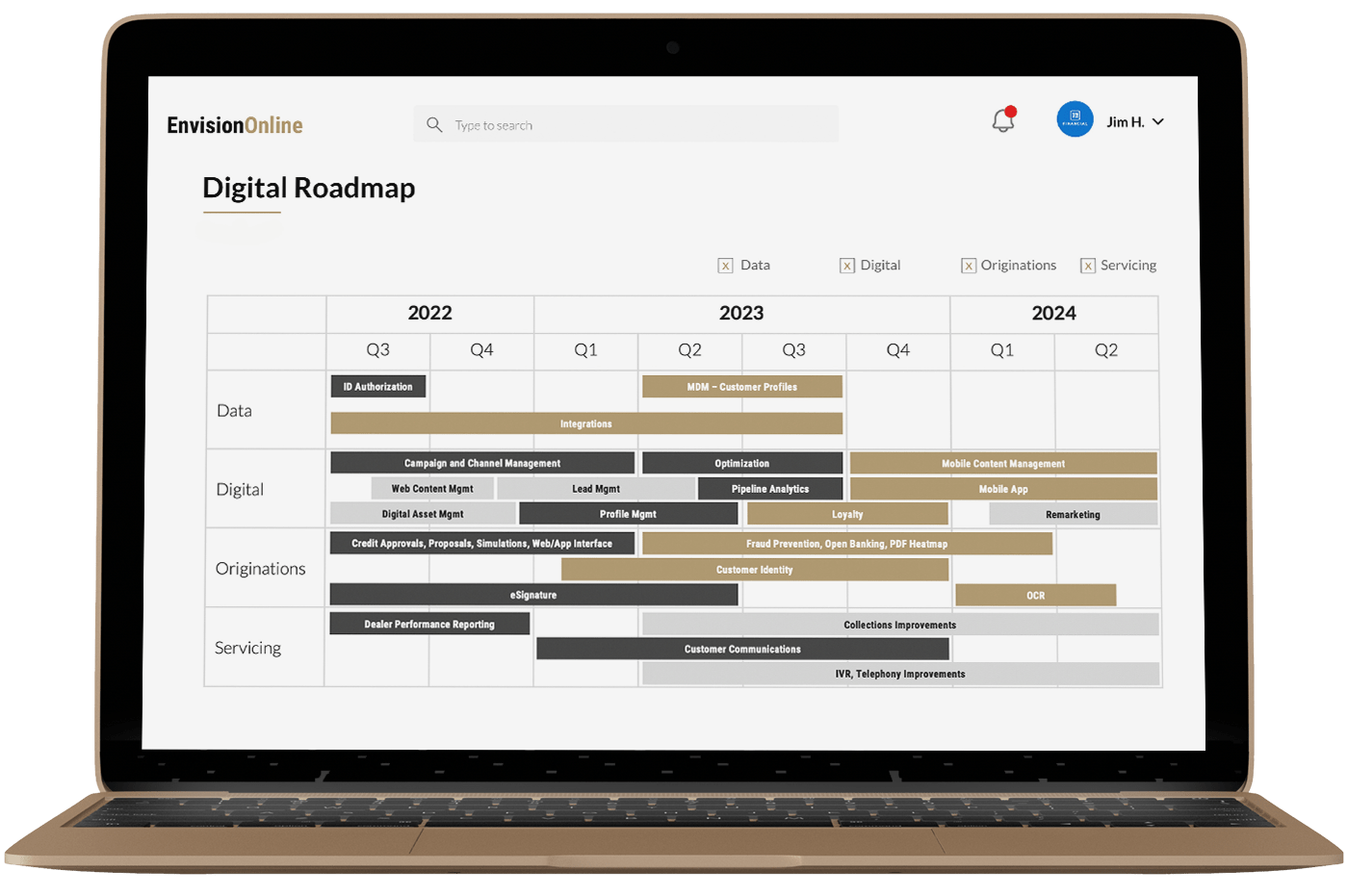 Rapidly Identify and Plan for Digital Initiatives
Our Portfolio Manager tool organizes and defines the initiatives and timelines to follow through and deliver on your strategies and ideas.
The Portfolio Manager helps you:
Identify key digital initiatives
Roadmap those initiatives to prioritize efforts
Build business cases to get organizational buy-in
Contact Perficient today to discover the power of Envision Online and start making smarter, faster decisions for your business.